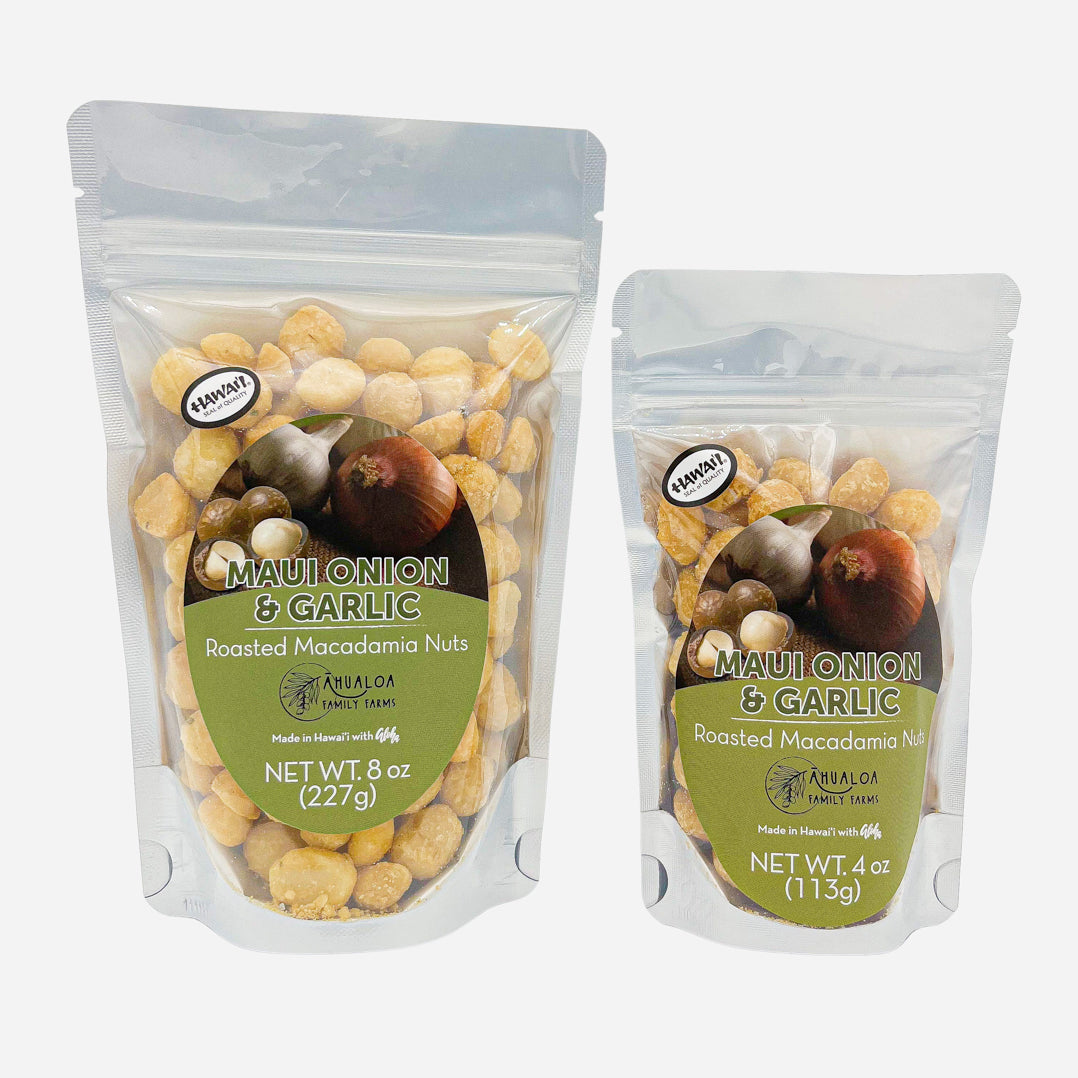 Beer's Best Friend
Indulge in the delectable sweetness of fresh squeezed Maui onions and a bold pop of garlic, the perfect combo added to our 100% Hawaiian macadamia nuts.
Maui onions have a unique sweetness because of the lack of sulfur that gives most other onions their sharp taste. Add savory garlic and you get a mac nut that pairs perfectly with your favorite after work beverage!
Gluten free & vegan
Hawaiian Macadamia Nuts, Sea Salt, Onion Powder, Garlic Powder, Maui Onion Juice, Hawaiian Macadamia Nut Oil, Parsley
Maui Onion & Garlic Macadamia Nuts
Shipping
Shipping Chocolate
Chocolate is sensitive to heat and sun. Please ensure you are present for delivery as we are not responsible for melted orders upon delivery.
How much is shipping?
Shipping is based on order value:
$100.00 or more = FREE shipping
$60.00 - $99.99 = $15 shipping
$30.00 - $59.99 = $12 shipping
Up to $29.99 = $8 shipping
Made in small batches
All of our flavored mac nuts are made in small batches to maintain superior quality and freshness. And with 10 different flavored macadamia nuts, we've got something for everybody!
Heart healthy & delicious
Hawaiian macadamia nuts are some of the tastiest you can find and are some of the most heart healthy and delicious nuts on the planet. Mac nuts have a delicious buttery flavor, are low in carbs, and high in healthy fats. That's why macadamias are perfect for keto diets.